Planting for the cure
I went to the garden center the other day intending to purchase some forth of July inspired plants. I was thinking red geraniums, white petunias and something blue. Instead I was distracted by the display of lovely pink "Plant for the Cure" flowers. My Mother, Mother-in-Law and two of my Aunts are Breast Cancer survivors, so I decided to do the whole front porch PINK! And I had the perfect planter in mind to house all those beautiful pink blooms.....a tomato cage..........I had got the idea from the shopin' channel.........
They were sellin' this planter that looked just like a tomato cage to me.............and having a stack of them behind the shed I set out to make my own for FREE!
I chose Petunias and Geraniums and added a few different shades of Ivy. In a month it should be cascading over the sides. And when the flowers die out the Ivy will be the accent for the next batch of flowers I'll plant this fall.
Lowes is donating 10% of the sales of the Plant for a Cure plants to cancer research. Just go to your local Lowes Garden center and look for the pink ribbons.
Tomato Cage Planter Tutorial
1. I used a plastic planter that my dog/goat tried to eat.
2. Poke three holes in the bottom of the container and run the wire at the bottom of the tomato cage through them and then bend them up.
4. Wire a hanging basket to the top of the tomato cage and spray paint every thing to match.
5. We built a box out of fence scraps to hide the ugly container. You could use pallet wood and it would look great, the more rustic the better.
6.For stability I used a little southern ingenuity but you can fill the bottom with rocks too. I used a stack of weights and ran an aluminum pipe down the middle. My tomato cages were kind of flimsy but yours may not need extra support.
7. Now fill 'er up with potting soil.
8. And your ready to plant.
I made this entire planter with things from around my garden shed. The only cost was the plants : )
I was featured @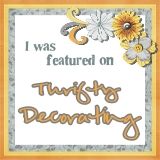 Shared at the link parties found
Here
I am not affiliated with any of the companies or organizations mentioned in this post.