Featured Blogs
CountryMommaCooks is having a blog button swap. I am looking for four blogs to swap buttons with each month. The buttons will be placed under the featured blogs tab in the side-bar. I am also placing two buttons each week from the Saturday Link and Greet party entries. If you are interested in participating
click
here
for more info and the criteria.
In the spotlight for this months Blog button swap are two amazing ladies.
Kara from
PetalsToPicots
and
Adrianne from
HappyHourProjects

.....
Please Pin from their blogs : )
Kara is an amazing crochet artist, her blog is full of wonderful tutorials and projects involving yarn. She has everything you need to know from getting started to advanced projects.
Kara also has a pattern store with free stuff and patterns for purchase.
And don't miss her "I heart Fridays link party"
I have never been able to crochet, I have bought books and supplies and always gave up. But I am puttin' it on my list of things to learn and do this summer, and I'm going to use Kara's blog to learn how.
Adrianne's
wonderful site focuses on DIY projects that can fit into an hour. Her projects range from sewing, jewelry making, baby projects, kids ideas and recipes.....so the next time the baby goes down for a nap check her out and get some craft-therapy.
And be sure to link up to her "Fridays Happy Hour Party"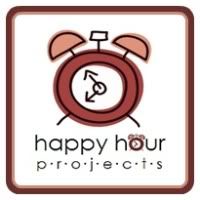 Another thing I am putting on my List of things to learn and do this summer is
Metal Jewelry Stamping. Adrianne has all the info you need and lots of cool jewelery projects to make...
I'm looking forward to hearing from anyone interested in future blog swaps.
For more info click here.